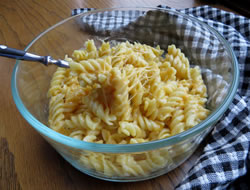 Directions
Boil the water. When it has reached a boil, empty the package of pasta into the water and let boil for 8 - 10 minutes.
While you are waiting, place the shredded cheese (I usually grate the cheese while the water boils), milk, & butter at the bottom of a large bowl.
When the pasta is ready, drain and immediately transfer it to the large bowl. While you let the pasta sit and melt all the ingredients at the bottom, add the salt and pepper.
Mix everything together until it is completely incorporated. Your macaroni and cheese may be gooey, stringy, or completely smooth - nonetheless, it's fantastic and easy for you and your kids.
Prep Time: 10 minutes
Cook Time: 10 minutes
Servings: 10


Ingredients
-
16 ounces rotini pasta ( or any similar size pasta you prefer)
-
16 ounces shredded cheddar cheese (mild, sharp, or Monterrey jack)
-
3 tablespoons milk
-
2 tablespoons butter
-
1 teaspoon salt
-
1/2 teaspoon pepper