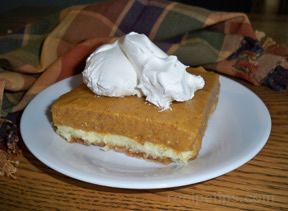 Directions
Crush graham crackers; mix with 1/3 cup sugar and 1/2 cup melted margarine. Press into 9x13 inch pan.

For filling, mix eggs, sugar and cream cheese; pour over crust. Bake 20 minutes at 350°. Cool.

For topping, cook pumpkin, egg yolks, 1/2 cup sugar, milk, salt and cinnamon until mixture thickens. Remove from heat; add gelatin that has been softened in cold water. Cool. Beat egg whites until stiff. Beat in 1/4 cup sugar. Fold into pumpkin mixture. Pour over cooled cream cheese crust layer.

Top with whipped cream.
Servings: 12


Ingredients
-
24 squares graham crackers, crushed
-
1/3 cup sugar
-
1/2 cup margarine, melted
-
FILLING:
-
2 eggs, beaten
-
3/4 cup sugar
-
1 package cream cheese, softened (8 ounce pkg)
-
TOPPING:
-
2 cups pumpkin
-
3 eggs, divided
-
3/4 cup sugar, divided
-
1/2 cup milk
-
1/2 teaspoon salt
-
1 teaspoon cinnamon
-
1 tablespoon unflavored gelatin
-
1/4 cup cold water
-
whipped cream