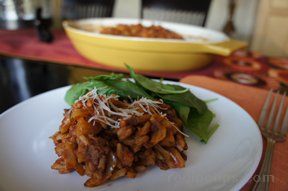 Directions
Preheat oven to 350 degrees.
In a large skillet, brown beef over medium high heat until no longer pink. Drain any fat.
In a large mixing bowl, combine the browned meat, onion, tomato sauce, cabbage, rice, salt and pepper. Pour mixture into a 9x13 baking dish.
Pour broth over meat mixture and bake in the preheated oven, covered, for 1 hour.
Stir, replace cover, and bake for another 45 minutes.
Prep Time: 15 minutes
Cook Time: 2 hours
Servings: 8


Ingredients
-
1 pound lean ground beef
-
1/2 cup onion, chopped
-
1 3/4 pounds cabbage, chopped
-
1/2 cup uncooked brown rice
-
1/2 can tomato sauce (29 ounce can)
-
1/2 teaspoon salt
-
pepper to taste
-
1 can beef broth (14 ounce can)