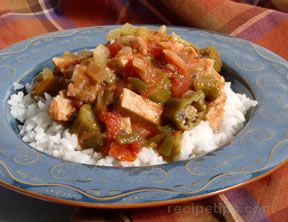 Directions
In a large heavy pan, heat oil and add onion, garlic, celery, sweet pepper and okra, cooking until tender or about 3-4 minutes.
Stir in the fresh and canned tomatoes, cubed turkey, broth, pepper, hot sauce, Creole seasonings and salt.
Cook over medium heat, uncovered for 30 minutes. Remove from heat and add file powder.
Gumbo can be served over cooked rice or a pasta of your choice.
Prep Time: 30 minutes
Cook Time: 30 minutes
Container: dutch oven
Servings: 4
Serving Size: 1 cup


Ingredients
-
2 cups cooked turkey, cubed
-
1 small onion, chopped
-
2 cloves garlic, minced
-
1/2 cup celery, chopped
-
1/2 cup green bell pepper, chopped
-
10 ounces frozen okra, sliced
-
14 ounces chicken broth, ready to serve
-
15 ounces diced tomatoes with green chilis
-
2 tomatoes, fresh
-
1 teaspoon Creole seasoning
-
ground black pepper, to taste
-
1/4 teaspoon salt
-
1/2 teaspoon file powder (opt.)
-
cooked rice to serve the gumbo over