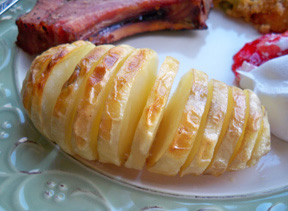 Directions
Heat oven to 425 degrees F.
Peel the potatoes and cut into 1/4 to 3/8 inch slices, being careful not to cut completely through the bottom of the potato.
Place potatoes in a 13 x 9 x 2 baking pan. Brush each potato with butter and sprinkle with salt.
Bake 40 to 45 minutes or until tender and golden brown, basting occasionally with butter.
Prep Time: 30 minutes
Cook Time: 45 minutes


Ingredients
-
8 baking potatoes peeled
-
Salt
-
1/2 cup melted butter or margarine