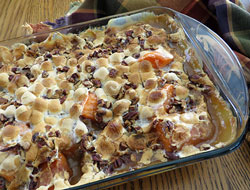 Directions
Peel the sweet potatoes and cut into large pieces. Boil until tender.
Arrange in greased 9 x 13 baking dish.
Mix salt, flour and sugar; pour mixture over sweet potatoes. Dot with butter.
Add marshmallows and pecans. Pour milk or cream over the top of all.
Bake at 350° for 45 to 50 minutes.
Prep Time: 30 minutes
Cook Time: 45 minutes
Container: 9 x 13 baking dish


Ingredients
-
6 sweet potatoes (medium)
-
1 teaspoon Salt
-
1 cup Brown Sugar
-
2 tablespoons butter
-
1/2 package mini marshmallows (10 oz. pkg.)
-
1 cup half & half (or milk)
-
1/2 cup chopped pecans
-
3 tablespoons flour