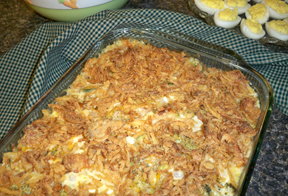 Directions
Cook vegetables to a crisp-tender.
Combine cheese, eggs, mayo, and soup.
Spray a casserole dish with Pam. Cover bottom of dish with 1 cup of the breadcrumbs.
Add the vegetables and cover with egg mixture. Sprinkle the remaining 1/4 cup of breadcrumbs over the top of the egg mixture.
Cook in 350 degree oven for 35-40 minutes. Add the French fried onion rings on top and bake an additional 5 minutes or until onions are browned.
Prep Time: 45 minutes
Cook Time: 45 minutes
Container: 9 x 13 casserole dish
Servings: 12


Ingredients
-
2 cups chopped broccoli
-
2 cups chopped zucchini
-
2 cups grated mild Cheddar cheese
-
6 Eggs
-
1 1/2 cups mayonnaise
-
1 can cream of mushroom soup
-
1 1/4 cups fine breadcrumbs (Pepperidge Farm Stuffing)
-
1 can French fried onion rings - large can