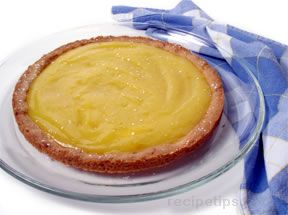 Directions
Lemon curd filling: In a medium sauce pan, combine eggs, sugar, fresh lemon juice and finely grated lemon zest. Whisk constantly while cooking over medium heat until mixture comes to a boil, and then turn heat to low and continue whisking. Cook an additional 7-10 minutes.
Remove from heat, whisk in the butter and immediately pour sauce through a strainer to remove any lumps. This recipe makes approximately 1 2/3 cups of lemon curd.
Crust: Preheat the oven to 350°F and lightly butter a 9" spring form or tart pan.
Sift together flour, salt and powdered sugar in a small mixing bowl. Add the ground walnuts and beat in the cooled, melted butter and vanilla extract until thoroughly blended, forming a thick dough.
Press the dough into the bottom and slightly up the sides of the prepared pan, using your fingers to spread it evenly.
Place pan in oven and bake for 15-20 minutes or until lightly browned. Remove from oven and cool on a wire rack.
Pour a thin layer of the cooked lemon curd mixture into the cooled crust and return to oven, baking another 20 minutes, or until the filling is set and slightly browned.
Remove from oven and cool on a wire rack. Remove the outer ring of the pan, leaving the lemon tart on the pan bottom.
To garnish the tart, lightly sprinkle powdered sugar over the top or drizzle chocolate across the top. Transfer tart to a serving plate.
Prep Time: 30 minutes
Cook Time: 1 hour
Container: 9 inch spring form pan or tart pan
Servings: 6


Ingredients
-
3 large eggs
-
3/4 cup white granulated sugar
-
2/3 cup fresh lemon juice (do not used bottled juice), approximately 2 large lemons
-
1 lemon zested
-
3 tablespoons butter, cut into small pieces
-
Crust:
-
1 cup flour, all-purpose
-
1/4 teaspoon salt
-
1/4 cup powered sugar
-
1/3 cup walnuts, ground
-
1/2 cup butter, melted and cooled
-
1/2 teaspoon vanilla extract