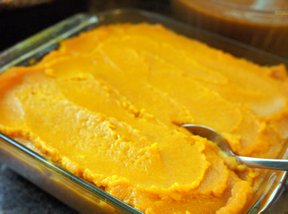 Directions
Put squash and ginger in a pot, cover with water, bring to a boil over medium heat, and cook until soft, 30-35 minutes.

Remove and discard ginger. Drain squash and mash desired consistency.

Stir in butter, herb salt and brown sugar. Cover and keep warm. Sprinkle with almonds prior to serving, if desired.
Prep Time: 15 minutes
Cook Time: 35 minutes
Servings: 6


Ingredients
-
2 pounds butternut squash, peeled, seeded, cubed
-
1 piece fresh ginger (2 inch piece), quartered lengthwise
-
2 teaspoons butter
-
1 teaspoon herbed salt
-
2 teaspoons brown sugar
-
1 teaspoon sliced almonds (optional)