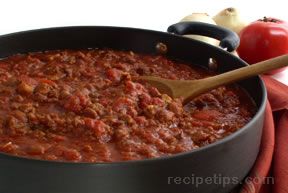 Directions
In a 12" skillet, saute the onion, garlic, and green pepper in 1 tablespoon of oil until soft and lightly browned.
Add the meat to the skillet and brown. Drain off any excess fat.
Add the remaining ingredients and bring to a boil; then reduce the heat and simmer 35 to 40 minutes.
Season to taste with chili powder, salt, and black pepper. Serve hot.
Prep Time: 15 minutes
Cook Time: 45 minutes
Container: 12
Servings: 4
Serving Size: 1 cup


Ingredients
-
1 clove garlic, minced
-
1 medium onion, chopped
-
1 green pepper, chopped (optional)
-
1 pound lean ground beef (chili meat)
-
15 ounces chili flavored beans
-
15 ounces diced tomatoes
-
6 ounces tomato paste
-
chili powder, salt ,and black pepper (to taste)