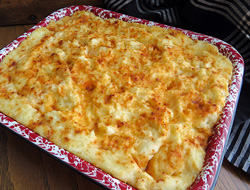 Directions
Place peeled and quartered potatoes in large kettle, cover with water and boil. Reduce heat, cover and cook for 20-25 minutes or until potatoes are tender.
Drain and mash in large bowl.
Add sour cream, cream cheese, and 4 tbsp. margarine; beat until cream cheese and margarine are melted and potatoes are smooth and fluffy.
Spread in greased 9x13 baking dish.
Melt remaining 2 tbsp. of margarine and drizzle over potatoes. Sprinkle with paprika.
Refrigerate or bake immediately. Preheat the oven to 350°. Bake for 40 minutes covered. Uncover and bake an additional 20 minutes. If refrigerated, let stand at room temperature 30 minutes before baking.
Prep Time: 50 minutes
Cook Time: 110 minutes
Container: 9 x 13 baking dish
Servings: 12


Ingredients
-
5 pounds potatoes, peeled and quartered
-
1 package sour cream (8 ounce pkg)
-
1 package cream cheese, softened (8 oz pkg)
-
6 tablespoons margarine divided
-
1/2 teaspoon Salt
-
1/2 teaspoon paprika