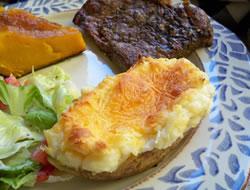 Directions
Preheat oven to 350 degrees F. Wash potatoes and remove blemishes.
Bake potatoes in preheated oven for 1 hour or until tender when poked with a fork.
Allow potatoes to cool enough to handle. Slice potatoes in half lengthwise. Scrape the potato out of the skins and place in a mixing bowl; set skins aside.
Mash potatoes and beat in the cream cheese, sour cream, salt, and pepper; beat until creamy.
Fill the potato skins with the mashed potatoes and set them in a baking dish; cover with foil and refrigerate overnight.
Before baking to serve, dot the top of the potatoes with butter and sprinkle with the cheese.
Bake again at 350° for 30-60 minutes or until warm and slightly browned at edges; serve.
Prep Time: 1 hour
Cook Time: 1.75 hours


Ingredients
-
5 pounds russet potatoes
-
8 ounces cream cheese
-
12 ounces sour cream
-
1 teaspoon salt
-
Pepper to taste
-
Butter
-
Shredded Colby Jack Cheese or cheese of choice