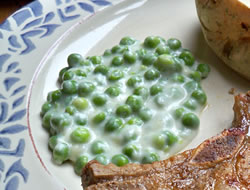 Directions
In a medium saucepan over medium high heat, combine peas, salt and water. Bring mixture to a boil. Reduce heat and stir in butter.
In a small bowl, whisk together heavy cream, flour and sugar.
Stir cream mixture into the peas. Cook over medium high heat until mixture has thickened and bubbles, about 5 minutes.
Serve warm.
Note: Half-&-half can be substituted for the heavy whipping cream if desired. This will reduce the amount of fat slightly.
Prep Time: 10 minutes
Cook Time: 10 minutes
Servings: 4


Ingredients
-
2 cups frozen green peas
-
1/8 teaspoon salt
-
2/3 cup water
-
3 tablespoons butter
-
1/3 cup heavy cream
-
2 tablespoons flour
-
1 tablespoon sugar