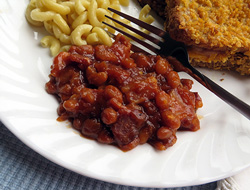 Directions
Empty 1 can pork beans into greased casserole.
Combine brown sugar and dry mustard; sprinkle half over beans.
Top with remaining beans, sprinkle rest of sugar mixture, add chopped bacon and ketchup over beans.
Bake uncovered for 2 1/2 hours at 325° F.

Note: The beans can also be cooked in a slow cooker. Cook for 6 hours on low or 1 hour on high and 4 hours on low. If beans seem runny towards the end of cooking time, cook on high, with the cover off, for an hour.
Prep Time: 15 minutes
Cook Time: 2.5 hours
Container: 2 quart casserole
Servings: 6


Ingredients
-
2 cans pork and beans (16 to 18 ounce cans)
-
3/4 cup brown sugar
-
1 teaspoon dry mustard (can use 1 T. prepared mustard)
-
6 slices uncooked bacon, cut inch pieces
-
1/2 cup ketchup