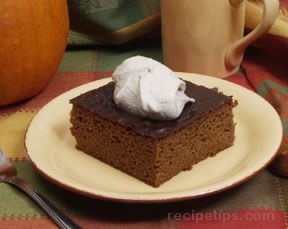 Directions
Preheat oven to 350° F. Lightly grease and flour the baking pan.
In a large bowl, mix together the canned pumpkin pie mix, the spice cake mix, water, eggs and baking soda. Beat with an electric mixer until well blended - 1-2 minutes.
Stir in the walnuts by hand. Pour this mixture into the prepared pan and bake at 350° for 50-55 minutes.
Cool cake.
For the frosting, beat the whipped topping, brown sugar and vanilla until it becomes thick. Serve over the individual pieces of cake.
Prep Time: 15 minutes
Cook Time: 1 hour
Container: 9
Servings: 12


Ingredients
-
30 ounces canned pumpkin pie mix
-
18 ounces spice cake mix (dry)
-
1/3 cup water
-
4 eggs
-
2 teaspoons baking soda
-
1/2 cup chopped walnuts (opt)
-
12 ounces whipped topping
-
3/4 cup brown sugar (packed)
-
1 1/2 teaspoons vanilla