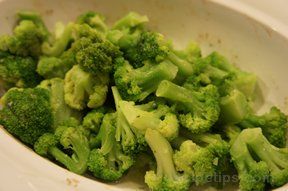 Directions
Preheat oven to 375° F (350° F for a 12" Dutch oven).
Cut broccoli florets leaving a portion of the stem with each floret. Place in baking dish or 12" Dutch oven.
Coat broccoli with olive oil and sprinkle with garlic salt. Place the cover on the baking dish or cover with foil.
Place covered dish in the oven and cook for 20-30 minutes. Check for doneness after 15 minutes to be sure you do not overcook the broccoli. It should be crisp-tender when done. Cooking time will vary depending on the amount of broccoli and your personal taste.
Remove from heat and transfer to serving dish.
NOTE: This is the easiest side dish to make and I have people devouring large quantities who say they would never touch broccoli. Be sure when you are adding the garlic salt to use your own judgment on how much to use. That will also depend on how much broccoli you are actually preparing.
Ingredients
-
1 bunch broccoli
-
3 tablespoons olive oil
-
1/2 teaspoon garlic salt, or to desired taste