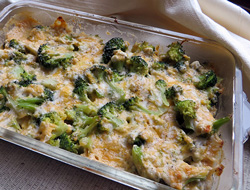 Directions
Preheat the oven to 350° F.
Cut broccoli into bite-size pieces and add to boiling water; cook for only about 5 minutes. Broccoli should just be cooked to a crisp tender. Rinse with cold water to stop cooking; drain well.
Place in a buttered 2 quart baking dish.
Mix the remaining ingredients together in a bowl. Spread this mixture evenly over the broccoli.
Bake in preheated oven for 30 to 45 minutes. Serve immediately.
Prep Time: 30 minutes
Cook Time: 45 minutes
Container: 2 quart baking dish


Ingredients
-
1 cup cottage cheese
-
1 cup shredded cheddar cheese
-
3 tablespoons flour
-
2 teaspoons salt
-
1 dash pepper
-
1 pound fresh broccoli