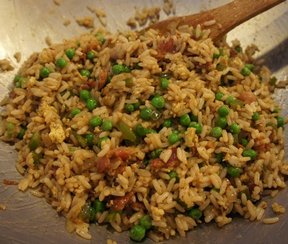 Directions
In a wok or skillet, brown bacon until crispy; remove from pan, leaving the drippings.

Sauté onions in the bacon grease until softened; remove from pan.

Add egg and stir until scrambled.

Add the cooked rice, bacon, onion, peas, garlic and soy sauce; heat through.

Make a meal and add shrimp or cooked chicken!
Prep Time: 15 minutes
Cook Time: 15 minutes
Servings: 6


Ingredients
-
3 slices bacon, diced
-
1/4 cup onion, diced
-
1 egg, beaten
-
2 cups rice, cooked
-
1 cup frozen peas
-
2 cloves garlic, minced
-
2 tablespoons soy sauce