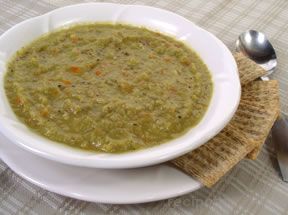 Directions
Rinse the dried peas with cold water and drain thoroughly. (They do not need to be soaked. Use the food processor to chop all the vegetables with a few pulses of the steel blade; it saves a lot of time, and the soup is smoother in texture.)
In a large pan, heat the oil over medium heat, and add the celery, carrots, onion, garlic, and ground pepper. Sauté until slightly wilted, about 5 minutes or longer.
In a stock pot, add the sautéed vegetables and stir in the rinsed peas, water, broth, bay leaves, thyme and sugar.
Bring this mixture to a boil, and then, reduce the heat to simmer, and partially cover the pan. Stir occasionally. The soup should be thick and the peas soft or mushy (this may take 1 to 1 1/2 hours of cooking). Add the extra bouillon to taste, and add extra water, about 1/4 c., if the soup appears too thick for your liking. Remove the bay leaf before serving and discard. Doubles easily, and freezes well.
Prep Time: 30 minutes
Cook Time: 1.5 hours
Servings: 6


Ingredients
-
2 cups dried split peas, green or yellow
-
2 tablespoons olive oil
-
3 stalks of celery with leaves - chopped
-
3 carrots - peeled and chopped
-
2 cloves garlic - minced
-
1 onion, large - peeled and chopped
-
1/2 teaspoon freshly ground black pepper, or to taste
-
4 cups water
-
2 cups canned chicken or vegetable broth
-
2 bay leaves
-
1/2 teaspoon dried thyme
-
1 teaspoon sugar
-
chicken instant bouillon (to taste the last 1/2 hour)