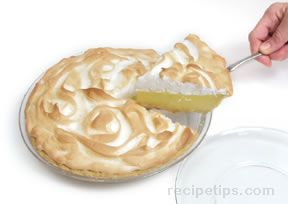 Directions
CRUST:
Combine flour, shortening, salt, milk, and mix until well blended. Form dough into a ball and then flatten. Roll out dough and put into a 9 inch pie plate.
Bake at 350°F until crust is golden brown. Remove from the oven and set aside.
FILLING:
Combine sugar, cornstarch and salt in a sauce pan.
Beat egg yolks and cold water together and add to the mixture in the saucepan; and then add the lemon juice and butter.
Pour in the boiling water and bring this mixture to a full boil; boil for one minute.
Remove from the heat and add the lemon extract; stir to mix well and then pour into the baked pie crust.
MERINGUE:
Beat egg whites to a soft peak; and then add the powdered sugar and cream of tartar. Beat until whites form stiff peaks.
Spread over pie filling and bake at 350°F until meringue is golden brown. It is best to let the pie cool before serving to allow the filling to firm up.
Prep Time: 1.5 hours
Cook Time: 30 minutes
Container: 9 inch pie pan or plate
Servings: 6


Ingredients
-
CRUST:
-
1/2 cup flour
-
1/4 cup shortening
-
1/8 teaspoon salt
-
2 tablespoons milk
-
FILLING:
-
1 1/2 cups sugar
-
6 tablespoons cornstarch
-
1/4 teaspoon salt
-
1/2 cup cold water
-
3 egg yolks
-
1/2 cup lemon juice
-
2 tablespoons butter
-
1 1/2 cups boiling water
-
1/2 teaspoon lemon extract
-
MERINGUE:
-
3 egg whites
-
1/2 cup powdered sugar
-
1/4 teaspoon cream of tartar