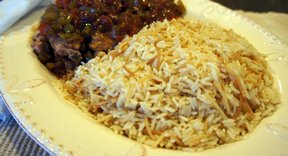 Directions
In a 3-quart saucepan, melt butter and brown broken pieces of spaghetti, being careful not to let them burn.

Add chicken broth and bring this to a boil.

When broth is boiling add the rice; cover and simmer on low heat about 20 minutes or until all liquid has absorbed.
Prep Time: 15 minutes
Cook Time: 20 minutes
Servings: 8


Ingredients
-
1/2 stick butter
-
1/4 pound spaghetti, broken into small pieces
-
3 1/2 cups chicken broth
-
2 1/3 cups long grain rice