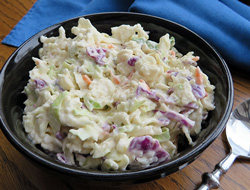 Directions
Pour the coleslaw mix into a large bowl.
In a smaller bowl, mix the remaining ingredients and stir to blend.
Pour the dressing mixture over the coleslaw mix. Toss until coleslaw mix is evenly coated.
Refrigerate until ready to serve. It is best to chill for at least 1 or 2 hours before serving.
Prep Time: 15 minutes
Servings: 8


Ingredients
-
1 package coleslaw mix (14 oz.)
-
3/4 cup mayonnaise
-
1/3 cup sour cream
-
1/4 cup sugar
-
3/4 teaspoon seasoning salt
-
1/2 teaspoon dry mustard
-
1/4 teaspoon celery salt