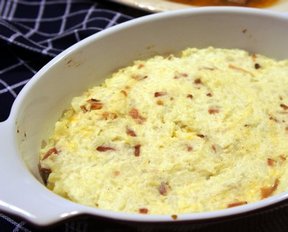 Directions
Microwave cauliflower with 2 tablespoons of water for 10-15 minutes until very soft; drain and mash with potato masher.

Add butter and cream cheese and mix well. Stir in remaining ingredients.

Pour into greased oven-proof casserole dish. Bake at 350 degrees F for 20 minutes or until brown and bubbly.
Prep Time: 20 minutes
Cook Time: 20 minutes
Servings: 6


Ingredients
-
1 package cauliflower (16 ounce bag)
-
2 tablespoons butter
-
4 ounces cream cheese, softened
-
1/2 pound bacon, cooked, crumbled
-
8 ounces shredded cheddar cheese