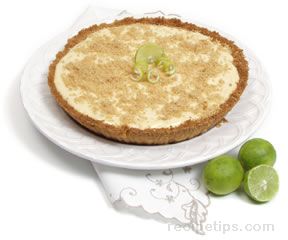 Directions
Cut and squeeze 8-10 key limes to obtain 1/3 to 1/2 cup of juice.
In a medium bowl, mix together the juice, softened cream cheese, and sweetened condensed milk until blended and smooth.
Pour the mixture into the prepared crust. Cover the pie and refrigerate until set, about 2 to 4 hours.
When serving, garnish the pie with a small, thin slice of fresh key lime or a dollop of whipped cream on each piece.
Prep Time: 30 minutes
Cook Time: 0 minutes
Container: 8-inch pie plate or tin, medium mixing bowl
Servings: 6


Ingredients
-
8 ounces cream cheese - softened (you may also use the reduced fat variety)
-
1 can sweetened condensed milk
-
1/3 cup key lime juice (obtained from 8-10 freshly squeezed key limes)
-
1 prepared graham cracker crust (8 inch)