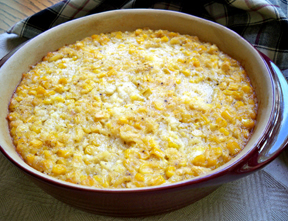 Directions
Drain 3 cans regular corn; mix in with the creamed corn.
Lightly beat 2 eggs in a bowl; add to corn mixture.
Scrunch up 1 sleeve saltine crackers; add to mixture.
Cut butter into thin slices and place on top of corn.
Bake 1 hr. 30 minutes at 350 degrees F.
Container: 9 x 13 baking dish
Servings: 12


Ingredients
-
3 cans regular corn
-
3 cans creamed corn
-
1 tube saltine crackers
-
2 tablespoons butter
-
2 eggs
-
salt and pepper, to taste