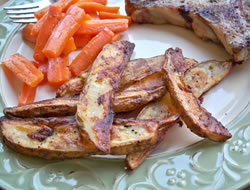 Directions
Cut each potato into 8 to 12 wedges, depending on how thick you prefer them.
Place in a large bowl or sealable bag. Add the remaining ingredients; toss to coat.
Arrange in a single layer in a 15-in. x 10-in. x 1-in. baking pan coated with nonstick cooking spray.
Bake at 425 degrees F. for 20 minutes; turn and bake 25-30 minutes longer or until crisp.
Prep Time: 15 minutes
Cook Time: 45 minutes


Ingredients
-
4 baking potatoes (medium)
-
1 tablespoon canola oil
-
1/4 teaspoon garlic powder
-
1/4 teaspoon salt
-
1/4 teaspoon pepper