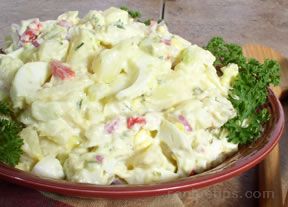 Directions
Cook the potatoes; then cool, peel, and dice.
Hard boil the eggs; then cool, peel, and chop.
Peel the onions and grate or chop fine.
Dice the celery fine.
Add the chopped potatoes, eggs, onions, and celery to a serving bowl, cover, and refrigerate while preparing the rest of the ingredients for the dressing.
Blend together the salad dressing, vinegar, pickle relish, pimento, mustard, celery salt, and sugar; then pour this sauce over the potato mixture and toss.
Cover the salad and refrigerate it for at least 1-2 hours for the flavors to blend properly. You may garnish the potato salad with olives and fresh sprigs of parsley for added flavor and color.
Prep Time: 30 minutes
Cook Time: 30 minutes
Container: large cooking pot, large serving bowl, medium mixing bowl


Ingredients
-
6 russet potatoes, large - cooked, peeled, and diced
-
4 eggs - hardboiled, peeled, and chopped
-
2 onions, medium - peeled and grated
-
1 cup celery - diced
-
1 cup salad dressing
-
2 tablespoons cider vinegar
-
1/4 cup pickle relish (sweet)
-
1/4 cup pimento - diced
-
1 tablespoon prepared mustard
-
1 teaspoon celery salt
-
2 teaspoons sugar
-
1/3 cup stuffed green olives - chopped (optional)
-
fresh parsley sprigs (optional)