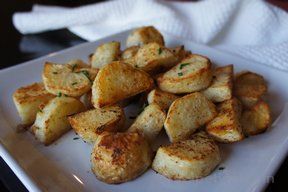 Directions
Peel potatoes and cut into bite-size pieces.
Preheat oven to 425 degrees F. Place cookie sheet (with sides) or 9x13 pan into oven with butter and oil on the pan. Remove as soon as the butter melts.
Swirl butter and oil around the pan to coat. Toss garlic in butter/oil mixture. Add potatoes and toss with garlic/butter/oil until well coated.
Place in preheated oven and roast, turning every few minutes as each side browns. Roast until all sides of potato are golden brown and you can pierce them easily with a fork.
Servings: 4


Ingredients
-
4 potatoes
-
4 tablespoons butter
-
4 tablespoons olive oil
-
2 cloves garlic, finely chopped