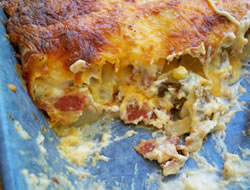 Directions
Preheat oven to 350 degrees F.; grease the bottom and sides of the baking dish.
Cut baked potatoes into 1" cubes. Spread half of the cubed potatoes in the bottom of the prepared baking dish.
Sprinkle the potatoes with half of the salt, pepper and bacon. Add half of the sour cream on top and carefully spread out evenly. Sprinkle half of the cheeses over the sour cream.
Repeat all of the layers.
Place in the preheated oven and bake, uncovered, for 30 to 45 minutes or until the cheese is melted and nicely browned.
Container: Deep 9 x 13 baking dish
Servings: 15


Ingredients
-
12 unpeeled potatoes, baked (medium)
-
1/2 teaspoon salt
-
1/2 teaspoon pepper
-
2 pounds sliced bacon, cooked and crumbled
-
4 cups sour cream
-
3 cups shredded Mozzarella Cheese
-
3 cups shredded cheddar cheese