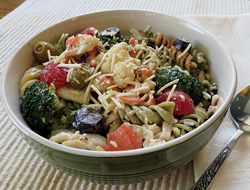 Directions
Cook pasta as directed - do not overcook; drain well.
Chop veggies and place in large bowl. Put drained pasta directly over veggies and pour the salad dressing over the pasta. Let stand 10 - 15 minutes.
Mix mayonnaise, cheese, crab meat, black olives and green olives together; mix in with the vegetables and pasta.
Sprinkle with garlic and basil; mix gently.
Best to let set overnight in refrigerator. May add more mayonnaise or dressing, if desired.
Prep Time: 1 hour
Cook Time: 10 minutes
Container: Large serving bowl


Ingredients
-
1 package Multi-colored spiral pasta
-
1 quart veggies of choice, chopped or grated, such as: broccoli, cauliflower, carrots, squash, onion, grape tomatoes or red or green peppers.
-
1 cup mayonnaise or miracle whip
-
1/2 cup Parmesan Cheese, grated
-
1 cup vinaigrette salad dressing (Small bottle)
-
1 pound Imitation crab meat, cut into bite size pieces
-
1 can sliced black olives
-
3/4 cup whole green olives
-
1/4 teaspoon garlic powder
-
1 1/2 teaspoons basil