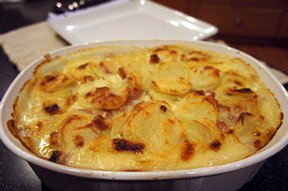 Directions
Preheat oven to 350.

Combine all ham and potato ingredients. Layer in a 2 quart greased casserole dish.

For sauce, melt butter in a saucepan. Add flour and cook for one minute until smooth. Add milk, dry mustard and cheese. Cover over low heat until cheese is melted.

Pour cheese sauce over potato mixture. Bake for 1 hour or until potatos are done.
Prep Time: 30 minutes
Cook Time: 1 hour


Ingredients
-
2 cups ham, diced
-
5 cups potatoes, peeled, sliced
-
1 onion, diced
-
5 tablespoons flour
-
1 dash pepper
-
SAUCE:
-
4 tablespoons butter
-
4 tablespoons flour
-
2 cups milk
-
1/4 teaspoon dry mustard
-
1/2 cup cheddar cheese