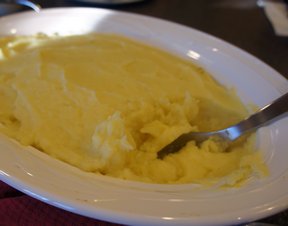 Directions
In 3-quart saucepan, place potatoes and garlic; add enough water to cover and heat to boiling.

Reduce heat to medium-low; cover loosely and boil gently 15-20 minutes or until potatoes break apart easily when pierced with a fork. Drain well.

Mash potatoes and garlic until no lumps remain. Add salt, pepper, milk and sour cream. Continue mashing until potatoes are smooth.
Prep Time: 10 minutes
Cook Time: 25 minutes


Ingredients
-
3 pounds Yukon gold potatoes, peeled, quartered
-
4 cloves garlic, peeled
-
1/2 teaspoon salt
-
1/8 teaspoon pepper
-
1/3 cup skim milk, heated
-
1/4 cup sour cream