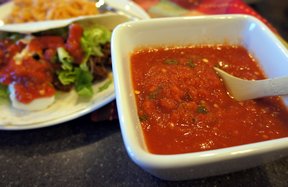 Directions
Add all ingredients to a blender or food processor and blend well.

This salsa can be served warm or cold. Serve with tortilla chips.

NOTE: Serrano peppers are hotter than jalapenos. Adjust the recipe to your liking; for mild do not add Serrano, for medium recipe as is, for hot add 2 Serranos.
Prep Time: 10 minutes


Ingredients
-
1 can crushed tomatoes (28 ounce can)
-
1/2 cup onion, diced
-
2 jalapenos, seeded, diced
-
1 Serrano pepper, seeded, diced
-
1/2 bunch cilantro, chopped
-
3 cloves garlic
-
1 teaspoon sea salt
-
1 teaspoon lime juice (optional)