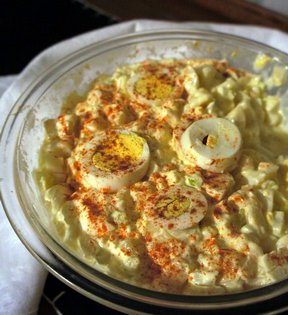 Directions
Place potatoes, eggs, onion and celery in a large bowl.

In a medium bowl, combine, mayonnaise, mustard, salt, vinegar, sugar and milk; mix.

Pour dressing over potato mixter and stir to coat.

Chill at least 2 hours before serving. Garnish with more egg slices and sprinkle with paprika before serving, if desired.
Prep Time: 30 minutes


Ingredients
-
2 1/2 pounds potatoes, cooked, peeled, cubed
-
4 eggs, hard boiled
-
1/2 onion, diced
-
3/4 cup celery, diced
-
1 cup mayonnaise
-
1 tablespoon mustard
-
1 1/2 teaspoons salt
-
1 1/4 tablespoons vinegar
-
3/4 cup sugar
-
1/4 cup milk