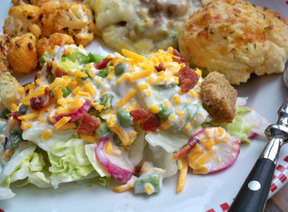 Directions
Place chopped lettuce in a 9 x 13-inch pan.
Layer the vegetables on top of the lettuce.
Pour ranch dressing on top of vegetables and spread out as evenly as possible.
Cover with cheese and then bacon; top with croutons.
Do not toss, leave in layers to serve. Refrigerate to chill before serving.
Note: You may not need the whole bunch of radishes for the salad. Cut thin slices of radishes and then place on the salad to create a single layer.
Prep Time: 45 minutes
Container: 9 x 13 pan


Ingredients
-
1 head lettuce, chopped
-
1 cup frozen peas
-
1 bunch radishes, thinly sliced
-
2 cucumbers (2 small or 1 large), sliced
-
1 green pepper, chopped
-
1 bottle ranch dressing
-
2 cups Cheddar cheese
-
1/2 pound bacon fried crisp, chopped
-
Croutons