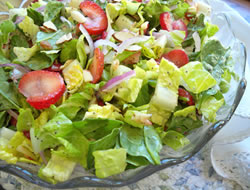 Directions
Tear lettuce into bite size pieces and combine it with the spinach.
Toss in almonds, strawberries, and blueberries; set aside.
DRESSING:
Mix sugar, lemon juice, onion, mustard and salt in blender.
Add oil slowly and blend until thick and smooth. Add poppy seeds and process a few seconds to mix.
Refrigerate the dressing until you are ready to serve the salad. When ready to serve, drizzle dressing over the salad and gently toss to coat evenly.
Note: Do not add all the dressing at once. Gradually add to the salad until it is coated as desired. The leftover dressing can be refrigerated for several days and used as a dressing for a regular toss salad.
Container: Large bowl for mixing
Servings: 10


Ingredients
-
1 head romaine
-
2 cups spinach
-
1/2 cup almonds, sliced
-
1 cup strawberries, sliced
-
1/2 cup blueberries
-
1/4 cup thinly sliced red onion
-
DRESSING:
-
1/2 cup sugar
-
1/3 cup lemon juice
-
2 teaspoons onion, finely chopped
-
1 teaspoon Dijon mustard
-
1/2 teaspoon salt
-
1/2 cup oil
-
1 tablespoon poppy seed