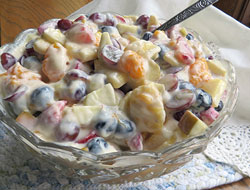 Directions
Drain canned fruit and then mix all fruits together.
Combine the sweetened condensed milk and cream cheese in a mixing bowl and beat until smooth.
Pour the cream cheese mixture over the fruit: stir until all fruit is evenly coated.
It is best to allow it to set in the refrigerator overnight. If not overnight, at least until thoroughly chilled.
Prep Time: 45 minutes
Container: Salad bowl
Servings: 12


Ingredients
-
1 cup mandarin oranges
-
2 cups pineapple chunks, fresh or canned
-
2 cups quartered strawberries
-
1 cup blueberries
-
2 cups grapes, cut inch half
-
1 apple, diced
-
1 can sweetened condensed milk
-
1 package cream cheese (8 ounce pkg)