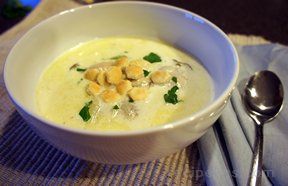 Directions
Melt the butter in a large skillet over medium heat; Saute the shallots, celery and potato until vegetables are tender.
Pour half-and-half into a large pot over medium-high heat. Add the vegetable mixture. Stir continuously. When the mixture is almost boiling, pour the oysters and their liquid into the pot. Season with salt, pepper and cayenne pepper. Stir continuously until the oysters curl at the ends. When the oysters curl the stew is finished cooking; turn off the heat and serve.
Ladle into bowls and garnish with parsley and paprika, if desired. Serve with your favorite oyster cracker.
Servings: 8


Ingredients
-
1/2 cup butter
-
2 shallots, finely minced
-
1 cup celery, finely minced
-
1 potato, grated
-
1 quart cream
-
24 ounces oysters, including liquid
-
salt and pepper, to taste
-
cayenne, pepper
-
parsley, chopped
-
paprika