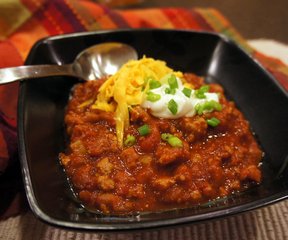 Directions
In Dutch oven, cook turkey, onion, celery and garlic over medium heat until meat is no longer pink and the vegetables are tender; drain.

Stir in the beans, tomato juice, tomatoes, brown sugar and seasonings. Bring to a boil.

Reduce heat and simmer, uncovered, for 45 minutes to allow flavors to blend.
Prep Time: 15 minutes
Cook Time: 45 minutes
Servings: 8


Ingredients
-
1 1/2 pounds ground turkey
-
1 onion, chopped
-
2 stalks celery, chopped
-
4 cloves garlic, chopped
-
1 can chili beans
-
1 cup tomato juice
-
1 can crushed tomatoes (large can)
-
2 tablespoons brown sugar
-
2 teaspoons chili powder
-
1 teaspoon salt
-
1/2 teaspoon crushed red pepper flakes