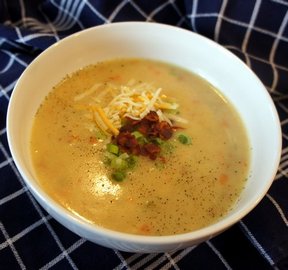 Directions
In large saucepan, cook bacon until crisp, drain.

Add potatoes, broth, carrot, onion, parsley, celery seed, salt and pepper. Cover and simmer until potatoes are tender, about 15 minutes.

Combine flour and milk together until smooth; add to soup.

Bring to a boil; boil and stir for 2 minutes.

Add cheese and stir until cheese is melted and the soup is heated through.

Garnish with green onions.
Prep Time: 20 minutes
Cook Time: 30 minutes
Servings: 8


Ingredients
-
6 slices bacon, diced
-
3 cups potatoes, peeled, cubed
-
1 can chicken broth (14 1/2 ounce can)
-
1 carrot, grated
-
1/2 cup onion, chopped
-
1 tablespoon dried parsley flakes
-
1/2 teaspoon celery seed, salt, and pepper
-
1/2 teaspoon salt
-
1/2 teaspoon pepper
-
3 tablespoons all-purpose flour
-
3 cups milk
-
8 ounces processed cheese, cubed
-
2 green onions, thinly sliced