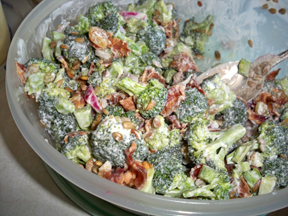 Directions
SALAD:
Fry bacon until crisp and crumble into pieces.
Cut broccoli into bite size pieces.
Cut onion into thin slices.
Combine broccoli, onion, and bacon in a large bowl for mixing; stir to mix.
Mix dressing and pour over broccoli mixture; stir until evenly coated.
Add raisins and sunflower seeds just before serving.
DRESSING:
Mix the mayonnaise, vinegar, and sugar together.
Stir until smooth.
Prep Time: 45 minutes
Servings: 12


Ingredients
-
SALAD:
-
2 bunches broccoli, cut into bite-size pieces
-
1 onion, sliced thin (small)
-
10 strips bacon, fried crisp and crumbled
-
1/2 cup sunflower seeds
-
1 cup raisins
-
DRESSING:
-
1 cup mayonnaise or salad dressing
-
2 tablespoons vinegar
-
1/2 cup sugar