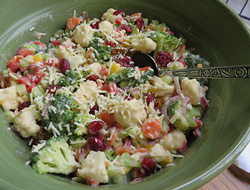 Directions
Toss vegetables in large salad bowl.
In a small bowl combine mayonnaise, sugar and Parmesan cheese.
Pour over vegetables and toss to coat. Cover and chill.
Stir in the bacon before serving, reserving a little to sprinkle on top. Sprinkle top with a little grated Parmesan cheese and bacon just before serving.
Prep Time: 60 minutes
Container: Large bowl
Servings: 8


Ingredients
-
5 cups broccoli florets
-
5 cups cauliflower florets
-
1/2 pepper, diced (green, red, or yellow)
-
1/2 cup chopped onion
-
1/2 cup carrot slices
-
2 cups mayonnaise or salad dressing
-
1/2 cup sugar
-
1/2 cup grated Parmesan cheese
-
6 slices bacon, cooked and crumbled