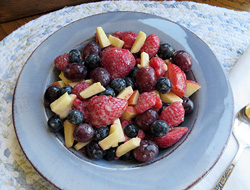 Directions
Prepare all the fruit and mix them all together in a large bowl.
Mix brown sugar and sour cream together. Refrigerate until serving.
Pour the brown sugar dressing over the fresh fruit just before serving.
Note: When adding the dressing, start by adding only half of it. Then add additional as desired. You may not need to use all of the dressing.
Prep Time: 60 minutes


Ingredients
-
3 cups strawberries
-
1 1/2 cups blueberries
-
1 1/2 cups raspberries
-
1 1/2 cups grapes
-
1 1/2 cups apples, diced
-
1/2 cup brown sugar
-
1/2 cup sour cream