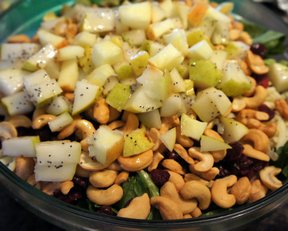 Directions
In a salad bowl combine the cheese, pear, apple, cranberries and lettuce.

In a blender or food processor, combine vinegar, onion, sugar, lemon juice and salt. Cover and process until blended. With the blender running, gradually add the oil. Add the poppy seeds and blend.

Just before serving, drizzle the desired amount of dressing over salad. Add the cashews and toss to coat. Serve immediately.
Prep Time: 20 minutes
Servings: 8


Ingredients
-
1 cup shredded Swiss cheese
-
1 pear, cored, diced
-
1 apple,cored, diced
-
1/4 cup dried cranberries
-
10 cups romaine lettuce, torn into pieces
-
1/2 cup cashews, chopped
-
DRESSING:
-
1/3 cup red wine vinegar
-
2 tablespoons onion, chopped
-
1/2 cup sugar
-
2 tablespoons lemon juice
-
1/2 teaspoon salt
-
2/3 cup oil
-
2 teaspoons poppy seeds