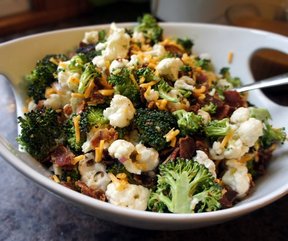 Directions
In a large bowl, toss broccoli, cauliflower, cheese and onion.

In a small bowl combine mayonnaise, sugar and vinegar. Pour over salad; toss to coat. Cover and refrigerate for 1 hour.

Sprinkle with the bacon and sunflower seeds, if desired.

VARIATION: Add 2 cups spiral macaroni may be added if you want a pasta salad.
Prep Time: 20 minutes
Servings: 12


Ingredients
-
5 cups broccoli florets
-
5 cups cauliflower florets
-
2 cups shredded cheddar cheese (8 ounce pkg)
-
2/3 cup onion, diced
-
1 cup mayonnaise
-
1/2 cup sugar
-
2 tablespoons red wine vinegar
-
6 slices bacon, cooked and crumbled
-
1/4 cup sunflower seeds (optional)