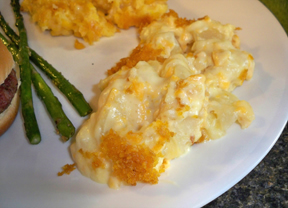 Directions
Preheat oven to 350.
Cook potatoes, peel when cooled. Grate or dice them. Or peel, dice and then cook them.
Place in 9 x 13 baking dish. Heat the 1/4 c butter until melted and add soup, sour cream, onions and cheese. Mix well. Pour mixture over potatoes.
Combine 1/2 - 1/3 c crushed cornflakes with 2-3 tbsp butter and sprinkled over potatoes.
Bake for 45 min.
Ingredients
-
6 potatoes (medium)
-
1 pint sour Cream
-
1/4 cup butter
-
1 can cream of chicken soup
-
1/3 cup chopped green onions or other onions
-
1 1/2 cups cheese
-
1/2 - 1/3 cup crushed cornflakes
-
2 tablespoons butter