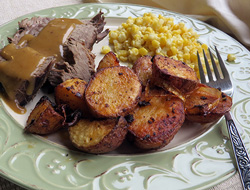 Directions
Preheat oven to 475° F.
Peel potatoes and cut into large chunks; place in a shallow baking pan in a single layer.
In a small bowl mix butter, olive oil and remaining ingredients; pour over potatoes and toss until well coated.
Bake, uncovered, in preheated oven for 30 to 40 minutes turning occasionally to brown all sides.
Prep Time: 15 minutes
Cook Time: 40 minutes


Ingredients
-
4 baking potatoes
-
2 tablespoons butter or margarine, melted
-
2 tablespoons olive oil
-
1 tablespoon minced garlic
-
3/4 teaspoon paprika
-
3/4 teaspoon Salt
-
1/4 teaspoon pepper