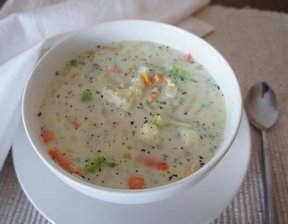 Directions
In large kettle, sauté onion in butter until tender.

Add flour; cook and stir until bubbly.

Gradually add chicken broth; cook and stir until thickened, about 5 minutes.

Whisk in the milk, cream, basil, salt, pepper, and garlic powder. Add cooked vegetables. Cook gently until heated through. Do not boil.
Prep Time: 15 minutes
Cook Time: 20 minutes
Servings: 8


Ingredients
-
1 onion, chopped
-
3/4 cup butter or margarine
-
1/2 cup flour
-
4 cups chicken or vegetable broth
-
3 cups milk
-
1 cup whipping cream
-
1 tablespoon dried basil
-
1 tablespoon salt
-
1 teaspoon pepper
-
1/4 teaspoon garlic powder
-
5 cups vegetables (broccoli, carrots and cauliflower), cooked