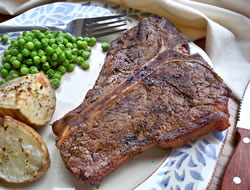 Directions
Sprinkle steaks with pepper and garlic salt.
Make a marinade of the soy sauce, water, lemon juice, cooking oil, and brown sugar.
Place the steaks in a large sealable plastic bag, pour in the marinade, and seal tightly.
Marinate in the refrigerator for at least two hours. For best results, marinate the steaks overnight in the refrigerator.
Grill to your desired doneness.
Prep Time: 10 minutes


Ingredients
-
4 steaks (sirloin, rib-eye, t-bone or other preferred steaks)
-
Black pepper
-
Garlic salt
-
1 cup soy sauce
-
1/2 cup water
-
1 tablespoon lemon juice
-
1 tablespoon cooking oil
-
1 tablespoon brown sugar