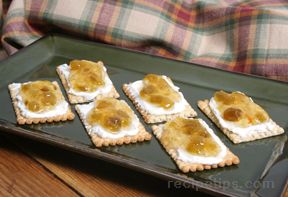 Directions
Place peppers in blender with vinegar and puree.
Place pepper mixture and sugar in a large pan over medium heat; stir until sugar dissolves; bring to rolling boil; boil for 8 to 10 minutes.
Remove from heat. Add Certo and if desired, add 2 or 3 drops of food color; stir until thoroughly mixed.
Pour into hot jars and seal.
Prep Time: 1.5 hours
Cook Time: 30 minutes


Ingredients
-
1 cup jalapeno peppers, roughly chopped
-
1 cup bell peppers, roughly chopped
-
1 1/2 cups white vinegar
-
7 cups sugar
-
1 bottle Certo (6 ounce bottle)
-
Green food color, optional